Brake Disc Measuring Gauge. Makes wear visible to be measured.
Brake discs in commercial vehicles must not fall below a certain minimum thickness. Play it safe with the TruckServices disc brake gauge.
Continuous wear
Brake discs have to endure a lot! Friction and high heat cause increasing wear each time the driver brakes. Discs become thinner over time as a consequence. To ensure constant safety while braking, brake discs may not fall below the permitted setpoint. Play it safe with the Brake Disc Measuring Gauge from Knorr-Bremse TruckServices. You can use the brake disc gauge to quickly and reliably assess the current wear condition of a brake disc, without even needing to remove the wheel! Simply essential
Essential specialized tool
Is the vehicle still braking reliably, even after thousands of kilometers on the road? Are all of the brake discs still in good condition? Only intact brake discs can guarantee optimal braking performance on wheels, and on the road. This practical gauge for Knorr-Bremse brake discs offers the information drivers need. Drivers, vehicle owners and workshops can use the tool to quickly determine whether brake discs need to be replaced. Wear is identified fast, and maintenance is accelerated. Vehicles are ready for use again more quickly and in perfect condition.
One measuring gauge for any brake disc
This easy to use disc gauge is suitable for all brake discs for Knorr-Bremse brake applications. One testing device for any brake disc – whether 17.5", 19.5" or 22.5". A simple, yet essential tool that facilitates fast service decisions and helps reduce downtime. Simple. Efficient.
Advantages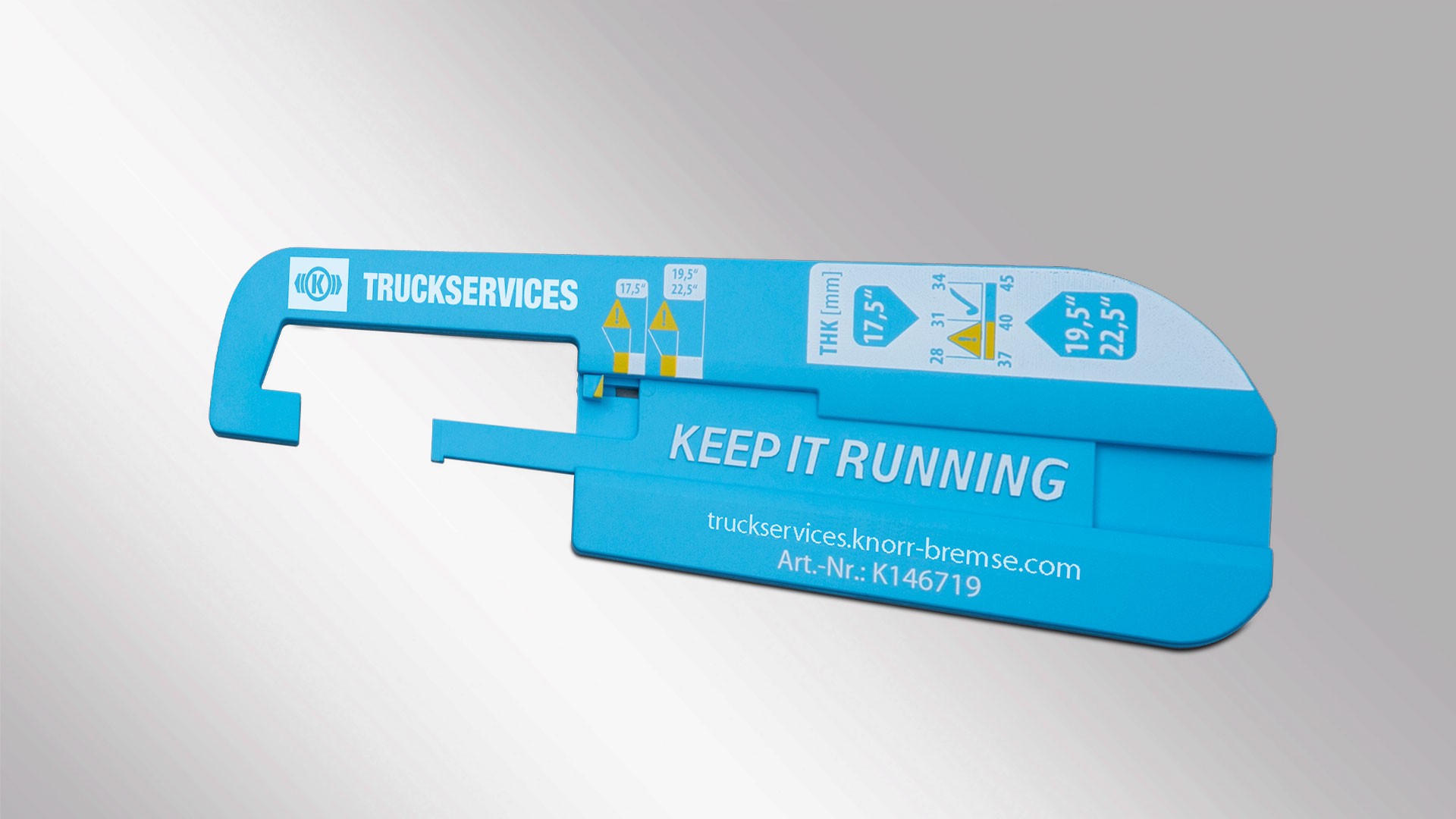 For the right decision: helps drivers, vehicle owners and workshops decide whether brake discs need to be exchanged.
For efficient work: no dismounting of the wheel needed for wear testing
For better safety: simple, quick monitoring of the wear condition of the brake disc
For shorter downtime: optimized maintenance processes reduce vehicle downtime
For all brake discs: for Knorr-Bremse brake applications



Go to overview: Workshop Tools