Release tool. Fast maintenance for trailer modules.
Knorr-Bremse TruckServices offers special tools for trailer modules, for fast and efficient maintenance. Combined in one tool kit.
Just pull the plug?
It's not quite that simple. All of the electrical connections and plugs used in trailer modules in the electronic braking system (EBS) carry out important tasks: from delivering the power supply to auxiliary functions and even wheel speed sensors. To ensure these work smoothly at all times, plugs and connections have to withstand difficult conditions such as heavy vibrations on uneven roads. The workshop, of course, is a different story: The faster and easier it is to disconnect the trailer modules' electrical connections, the sooner the vehicle can be back on the road. The release tool case for trailer modules from Knorr-Bremse TruckServices is a quick, reliable way to disconnect modules.
Maintenance and repair – making every action count
These special tools support workshops in carrying out maintenance and repair work and replacing trailer modules. The tool makes it easy to loosen electrical connections. Even loosening and tightening the bayonet connection for the power supply is done in no time, for quicker service times. And that's not all. One of the best features of the tool is that it helps maintain the module in its original condition, without damaging it or the connections. Likewise, the release tool will not cause damage or defects to surrounding components if used correctly.
Optimal and essential tool
The TruckServices specialized tool for trailer EBS modules (TEBS) is a reliable helper in the workshop, and makes every day work simpler, more efficient, and more ergonomic. The following services are easier and faster with the Knorr-Bremse release tool case:
Removing and refitting electrical connections of trailer EBS modules (TEBS)
Loosening and tightening the power supply (bayonet nut connector)
Release tool case – the right equipment
To offer you the best service solutions, we let the market inspire us. Which tool is used most often in workshops? What tools are required to loosen electrical connections in trailer EBS modules as quickly and simply as possible? By combining all the special tools you need, we want to help simplify the needs of the workshop. That's why we developed the tool kit for Knorr-Bremse trailer EBS modules in collaboration with Gedore Automotive. Our cooperation partner is a leading manufacturer, working worldwide in over 70 countries. Made by tool specialists for your workshop professionals!
Advantages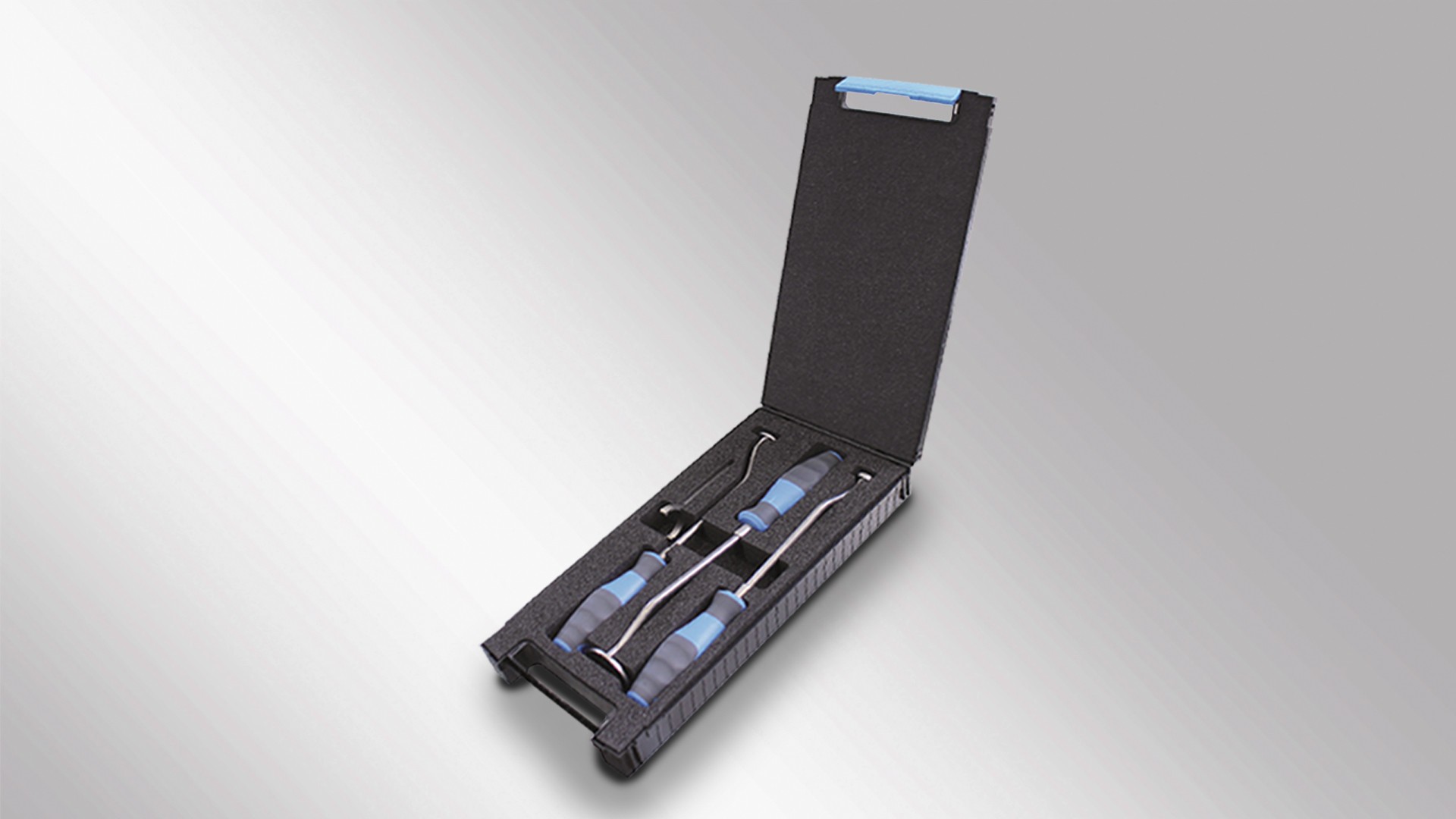 Save time: quickly and easily loosen electrical connectors and plugs on trailer EBS modules (power supply, auxiliary functions, wheel speed sensors)
Makes loosening and tightening easier: Release tool for bayonet nut connectors with square opening (for the power supply), for use in combination with a ratchet (not included in the kit)
Comfortable to use: all our tools come with an ergonomically designed, two-component handle to fit perfectly in your hand.
Accessible anytime: detailed repair instructions available online
Optimal combinations: all required release tools combined in one robust, easy to handle tool kit
Needs-based: all release tools are also available individually online to meet your needs
You can download product information, installation and service manuals here.
Downloads






Go to overview: Workshop Tools