EconX® dryer cartridges for older trucks. Perfectly adapted.
EconX® Oil Separator Cartridges (OSC) from Knorr-Bremse: less expensive than a new service product, with a shorter service life making it ideal for older commercial vehicles.
All dried up. No matter their age.
Moisture has an extremely negative impact on compressed air. If aerosols are able to continuously penetrate the braking system, this may result in internal corrosion or freezing. The risk that the truck will break down increases as the truck ages. Air processing with an oil separator from Knorr-Bremse helps prevent breakdowns: Oil Separator Cartridges filter 99% of aerosols from the air! This also protects the entire compressed air system from contamination, and increases the service life of the commercial vehicle. We offer premium OSCs in remanufactured EconX variants as well, for older commercial vehicles with a shorter remaining service life. Efficient. Sustainable. Safe.
Oil separation. Protection for your braking system.
Oil residue in desiccants can significantly reduce the drying performance of the cartridge. In older trucks with high air consumption, and therefore high oil carry-over from the compressor, the risk of a vehicle breakdown is increased. EconX oil separator air dryer cartridges are the ideal solution to separate oil in drip or gas form from the compressed air – even before the air is dried. This protects the elastomers used in the different valve parts in particular, increasing their service life. That makes this an ideal solution for commercial vehicles with a few hundred thousand kilometers on the clock. Our inexpensive, sustainable EconX Oil Separator Cartridge is designed for them. For a long vehicle life.
EconX drying cartridges. Fair price.
Knorr-Bremse cartridges with oil separators are used by most vehicle manufacturers. Older trucks drive longer with EconX OSCs, for more economical repairs. This is good for your wallet, and good for the environment. Remanufacturing used products saves resources and significantly lowers CO2 emissions. When it comes to safety, we don't make any compromises in our remanufactured replacement parts! EconX Oil Separator Cartridges contain the same technology as new Knorr-Bremse OSCs. However, we do give them some visible differences in their appearance: The original cartridge is blue, while the EconX cartridge is green. Naturally!
Advantages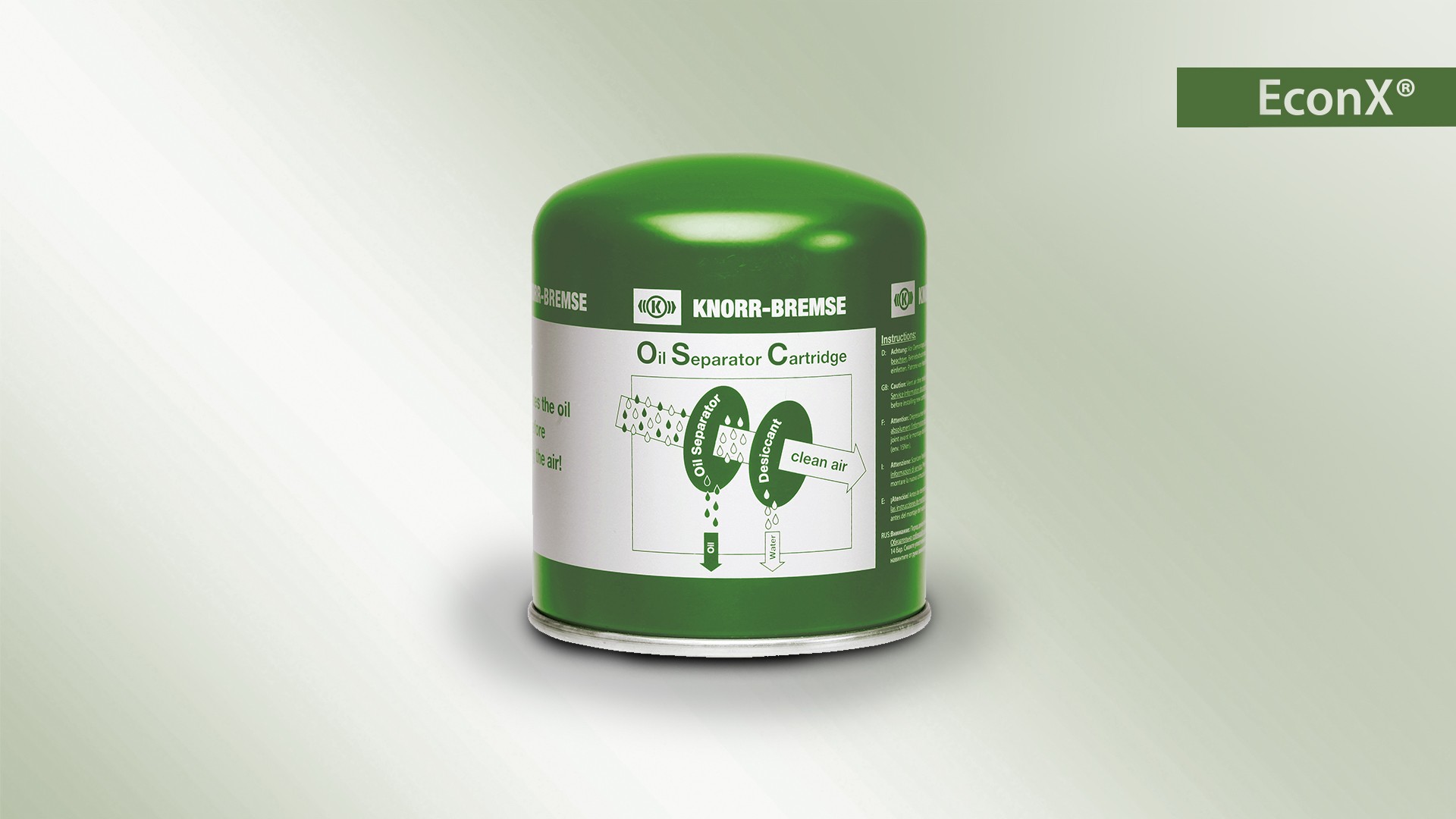 Cost-efficient solution for economical maintenance
OSC extract 99 % of aerosols from the compressed air
OSC dry the compressed air and filter out oil
Protects the entire braking system in older trucks
Optimal relationship between filtration performance and exchange intervals
Reduces the risk of a vehicle breakdown
With one click you will be redirected to our Customer portal. There you will find extensive information about our EconX products.
Start search



You can download product information, installation and service manuals here.
Downloads






Go to overview: EconX Air Treatment