TruckServices Expert Network Distributors: Excellent Service
Work with us to set a new standard for outstanding service - as a certified distributor in our Expert Network. You can help ensure consistent quality at the highest level.
Keep it running! - That is our mission!
We want every vehicle to get back on the road again as quickly as possible. To fulfill our mission, we have developed a new and improved quality partner program: the Expert Network for distributors. With the program, we are setting uniform standards for outstanding service from our distribution partners across Europe, the Middle East and Africa.
Why did we launch the network? So that you, as a distributor, can guarantee your customers consistent quality. So that we can support you with targeted marketing campaigns. So that you can benefit from a wide range of other advantages, as a Knorr-Bremse TruckServices partner.
The Foundation: The Expertise of our Quality Partners
It's all in the name: Our Expert Network is based on the combined experience of our partners in the sector. We benefit from the product and system expertise of Knorr-Bremse, united with the competence of our industry partners.
Making sure your vehicles run reliably is important to us. We continuously optimize the quality of service we offer to commercial vehicle owners/operators and set new standards for outstanding service. To do so, we work closely with our distribution partners. Our goal is to always become better together. Our customers can tell the difference: Only distributors who fulfill our quality criteria and pass regular audits may become members of the Expert Network.
The Best Part: Safety thanks to High Quality Criteria
We see our partnership agreement as a network that stands for the highest quality standards. We work carefully to make sure it stays that way. Anyone who wants to be part of our Expert Network as a certified distributor undergoes an audit every two years based on strict quality criteria. We only take the best, and we look for compliance with our quality features! This helps us ensure that all our network partners fulfill a comparable standard of quality. After all, that's what our customers expect.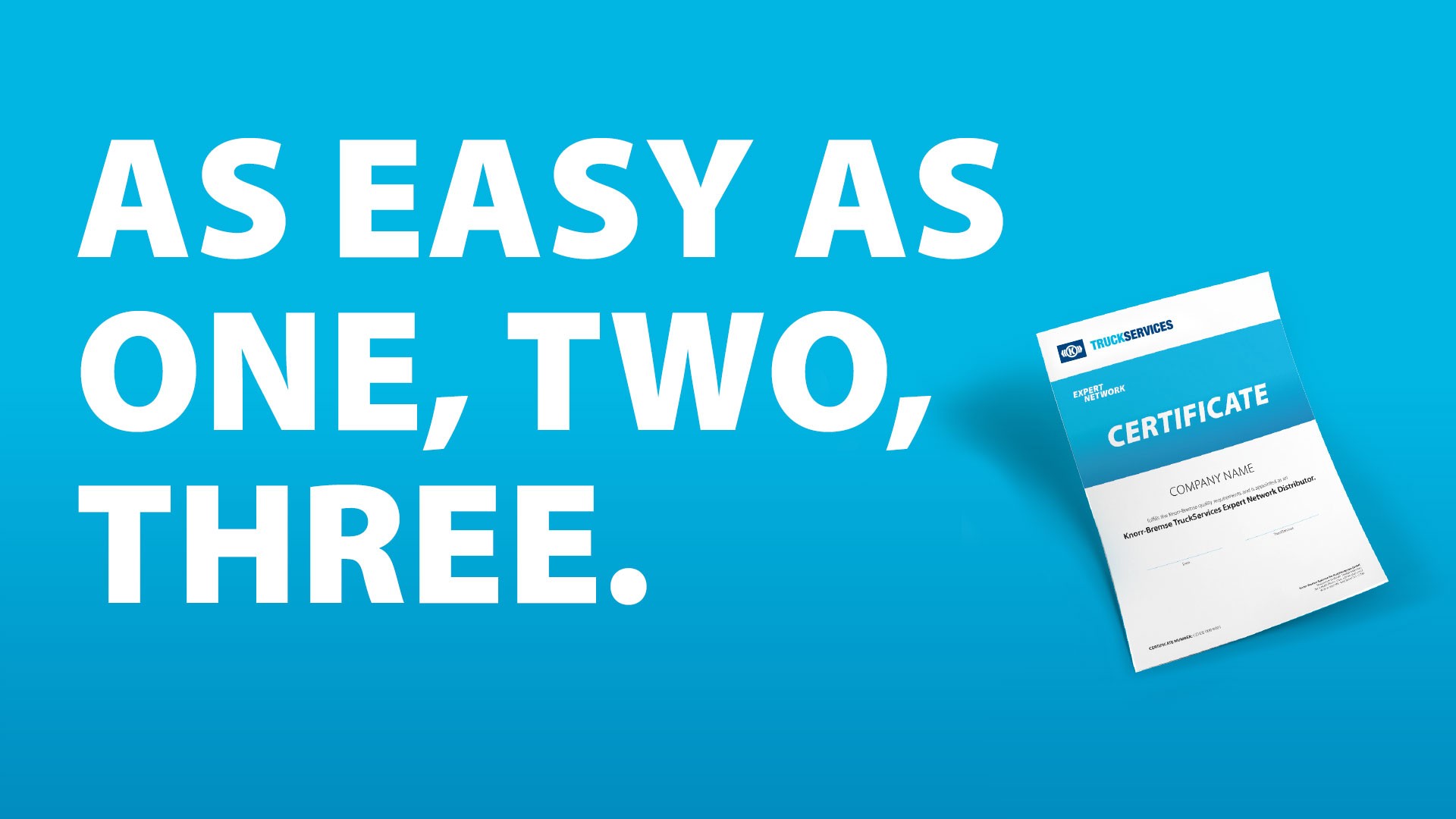 Your benefits: Added Value as a Member of the Expert Network
Acquire new customers: Reference in the TruckServices Contact Finder
Gain visibility: Standardized network signals, such as signs, flags, and banners
Improve your sales: Support for marketing campaigns
Act faster: High product availability through clear logistics agreements
Become part of our community: Authorization by Knorr-Bremse TruckServices
Advertise together: Participate in TruckServices fleet marketing activities
Learn from the professionals: Training courses from the experts
Stay on board: Long-term partnership agreements
Ask questions: Hotline support and personal customer advising
Learn more: Documentation available around the clock on our website
Next Steps: Here's How Easy it is to Become an Expert Network Distributor

Registration – Join In
As a new partner, you can easily apply using our online form. If you have any questions about the registration process, your TruckServices sales representative will be happy to help. We review each application as quickly as possible and then get in touch with you.

Auditing – We Audit Our Partners
After a thorough review of your application, we will set up an appointment with you for the actual audit. An independent auditor will check with you directly at your premises to ensure you meet all the requirements to become part of our Expert Network. The audit is based on 17 acceptance criteria upon which your services will be assessed. Following a successful audit, we will officially certify you as a member of the Expert Network, and you can benefit directly from all the advantages of collaborating with us.

Implementation – Take Part
Following successful certification, we will send you a starter pack containing a basic supply of marketing and promotional materials for your customers. In addition, we will support you with additional materials, such as high-quality signage. This will ensure that your customers always recognize you as a member of the Expert Network. After certification we will also list your company on the internet as an Expert Network distributor.
Become a member of the TruckServices Expert Network!
Secure your advantages as a certified distributor. To register, please complete the online form.
Register here






Go to overview: Distributors