Release tool. Reliably loosens Raufoss plugs.
With this special tool from TruckServices, you can remove airlines from Raufoss couplings in a flash. Release tool available in six sizes, in a practical tool kit.
A simple goal...
to equip workshops with just the right special tools. That's Knorr-Bremse TruckServices' mission: to make everyday work easier for experts in the workshop and in sales, as well as drivers and vehicle fleet operators. Our perfectly coordinated products and services deliver more efficiency for your everyday work. You save time, thanks to optimized maintenance processes, and enjoy reduced costs due to shorter downtimes for your commercial vehicles. Working on compressed air lines can be simpler too: with the special release tool for Raufoss couplings. For shorter service times. For better service quality.
Well protected – in a rugged tool kit
How many pipelines are installed in a commercial vehicle pneumatic braking system? We can't answer this question for every single vehicle. But one thing is certain: There are many different line sizes. Each of these lines, in turn, needs just the right coupling. That's where the TruckServices tool kit comes into play. We have packed it with six original aluminum Raufoss release tools – for every standard diameter. Instead of having to look for the right removal tool in the shop, our workshop professionals have provided everything you need for fast, safe service. All in a robust case. Protected, and packaged safely.
An ideal combination – all-in-one release tool kit
The TruckServices tool kit was developed in cooperation with major manufacturers of equipment for the commercial vehicle industry. We focus particularly on outstanding material and finishing quality for our special tools. We offer release tools to disconnect pipe connections in two versions to meet your individual needs: the "Professional" version as a metal set, or individually as "Standard" plastic versions. Aluminum disassembly tools are particularly robust for rough everyday conditions in the workshop.
Advantages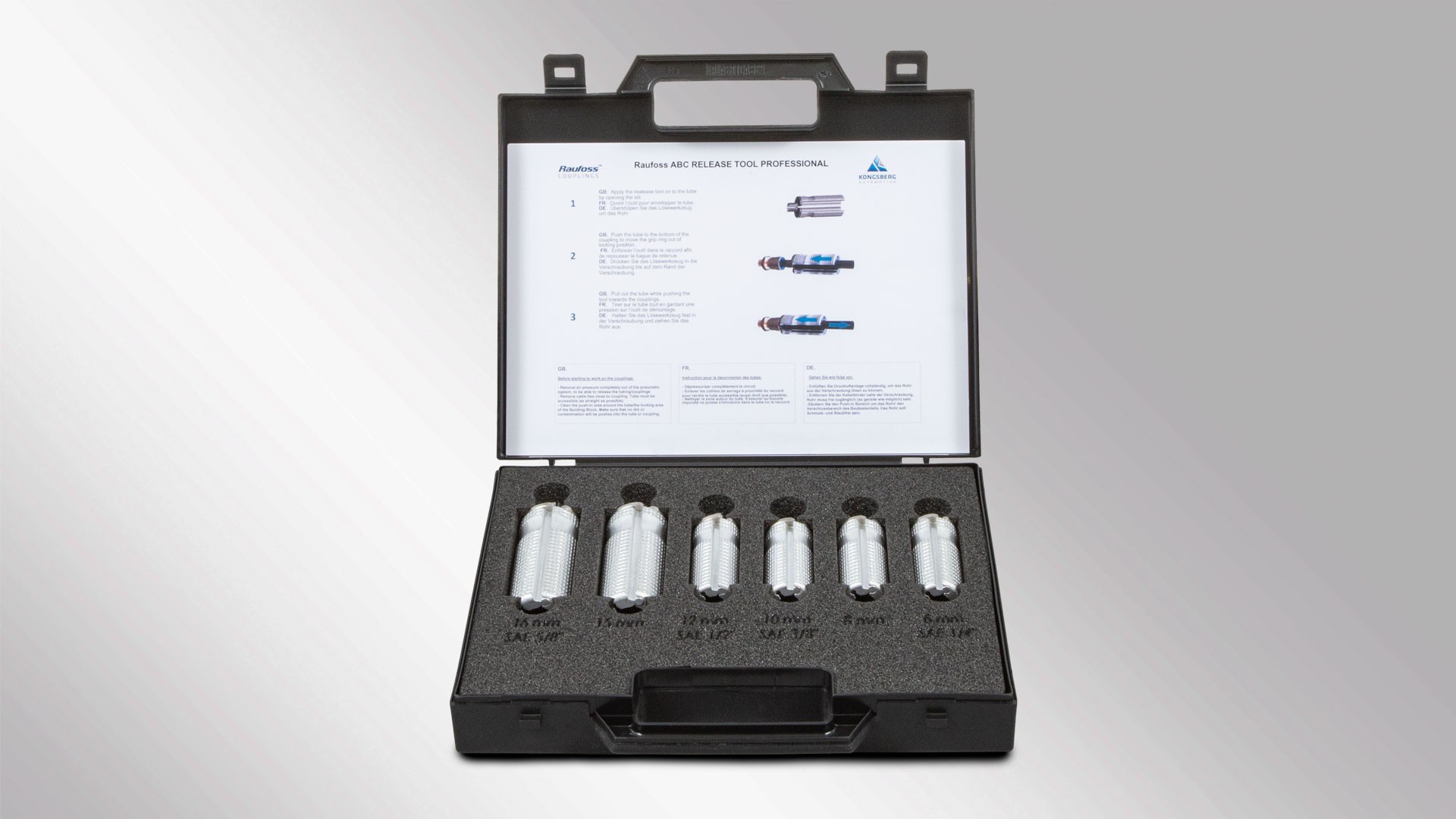 Optimal combination: to quickly and reliably remove pipelines
Comprehensive: contains six original release tools for different line sizes
High-quality: Special release tools with outstanding material and finishing quality
Variable: Professional/metal and standard/plastic disassembly tools (plastic tools only available individually)
Efficient: improved service quality, shorter service times
Helpful: simplifies everyday tasks in the workshop
User-friendly: self-explanatory handling of the tools
Protective: Release tools packaged safely and protected in a practical tool kit
Additional: all disassembly tools also available individually, in either metal or plastic versions
You can download product information, installation and service manuals here.
Downloads






Go to overview: Workshop Tools