Maintenance gauge for Brake Actuators. Objective testing.
The TruckServices actuator gauge is used to service Knorr-Bremse Brake Actuators. For faster decisions. Objective, precise, secure!
In a gray area?
Is the height of the actuator's interface seal to air disc brake within the target range? Is the push rod's position correct? The Knorr-Bremse TruckServices Actuator Maintenance Gauge provides answers! However, if the height of the actuator's seal is only checked visually, without tools, then the results are subjective and cannot be checked against one another. The check gauge can be used to inspect the height of the actuator's seal and push rod easily, in just a few steps. The results of the check can be used to determine without a doubt whether the seal should be replaced. Fast, precise and objective.
Maintenance gauge: practical decision-making tool
The actuator gauge was developed by TruckServices to support workshops in servicing Brake Actuators. During the test, the target value on the actuator gauge is compared to the actual condition for the tested height of the actuator's seal or the push rod. The test does not deliver a measured value, but rather information on the condition of the checked object: OK, replacement, or rework. This practical decision-making tool therefore ensures shorter service processes and vehicle downtime. That is TruckServices' mission: to get commercial vehicles of any age back on the road fast with high-quality products and service solutions in perfect condition.
Actuator gauge: reliable quality testing
The Actuator Maintenance Gauge from TruckServices is an essential tool in any workshop. It is indispensable for maintenance and repair of Knorr-Bremse disc brakes. The gauge not only helps make fast and reliable decisions during the maintenance process, but also helps to objectively check the quality of completed work. It can be used, for instance, when mounting the Brake Actuator, to determine whether it should be serviced with an original Knorr-Bremse Brake Actuator repair set, or completely replaced with a new Brake Actuator. The gauge shows whether the alignment of the clamping ring and air connection on the cylinder conform to the original installation. Perfect precision.
Advantages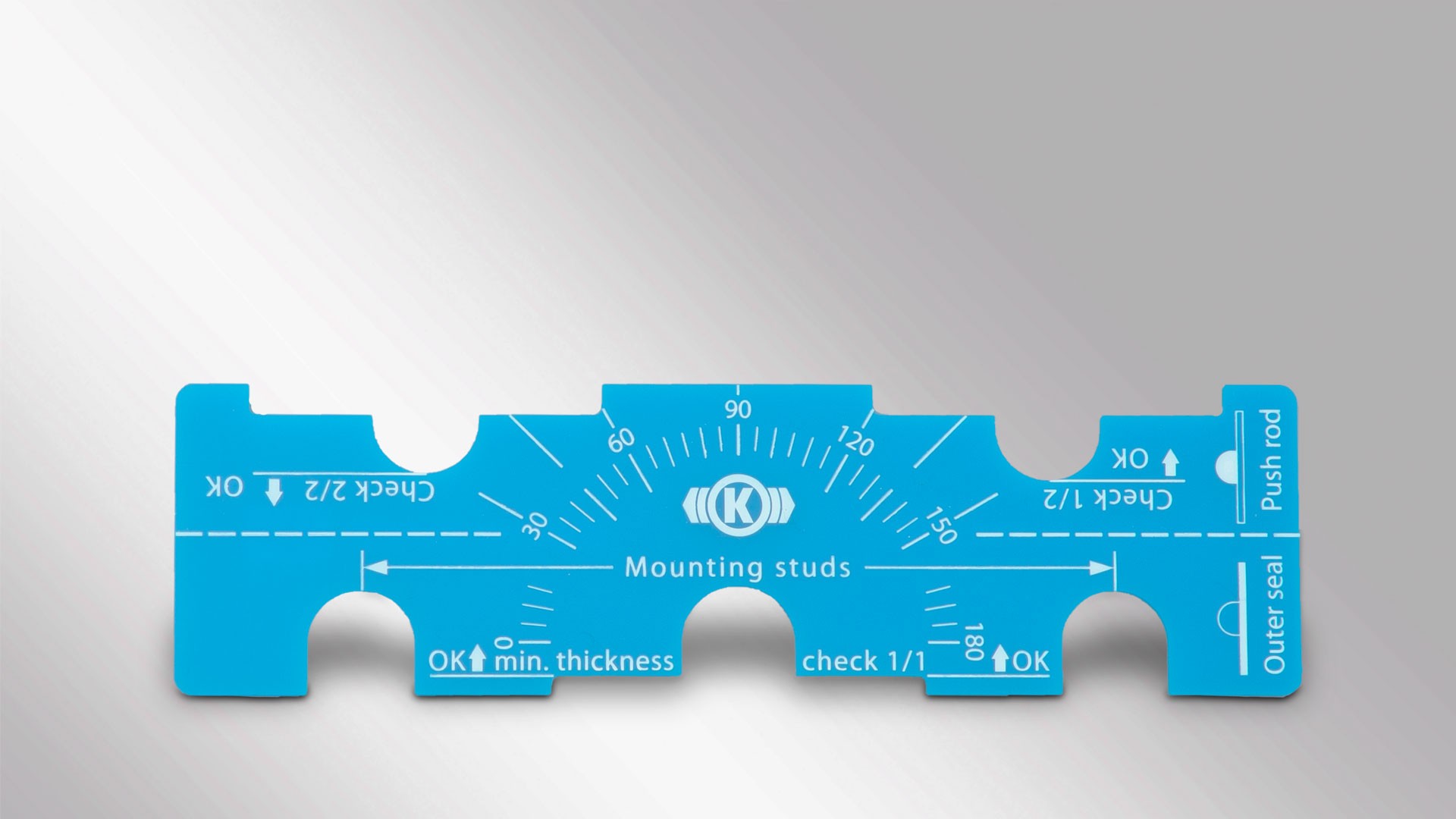 Precise: ensures fast and easy inspections of the height of the actuator's seal and push rod
Fast: accelerates decision-making during service, thereby supporting the maintenance process
Cost-efficient: fast installation of the service kit
Optimal: minimizes downtime
Maintains original condition: ensures that the alignment of the actuator precisely conforms to the original installation
Comprehensive: suitable for all Knorr-Bremse Brake Actuators



Go to overview: Workshop Tools