EconX® electronic clutch actuator. Comfortable.
EconX® electronic clutch actuators from Knorr-Bremse, for automatic transmissions, are remanufactured, sustainable, and efficient. For better comfort.
Comfort, no matter your vehicle's age ...
... thanks to electronic-pneumatic clutch actuators. The smart switching technology facilitates electrically controlled, pneumatic actuation of the clutch. That means no rough gear changes - just a gentle start-up, precise maneuvering and easy shunting, even in tricky driving situations. Makes life easier for drivers! Drivers who try the comfort and safety of an electronic clutch actuator from Knorr-Bremse won't want to do without it, even in older trucks. And they won't have to - we offer EconX electronic clutch actuators for economical repairs of older vehicles.
For a wide range of clutch systems
Electronic clutch actuators from Knorr-Bremse are versatile: for automatic transmissions, clutch-by-wire applications and hybrid applications. Knorr-Bremse has sold over 1.2 million electronic clutch actuators over the past 20 years. This includes EconX versions, which Knorr-Bremse has offered since 2016 to help keep even older trucks driving safer, longer.
For economical repairs
When it comes to function, remanufactured electronic clutch actuators are indistinguishable from a new Knorr-Bremse service part. We ensure this through our specialized remanufacturing process, which is based on the standards applied to new products. The difference is the remaining expected service life of the parts. This is always shorter for EconX versions than for new service products. Some components in EconX products come from previously used parts, making them less expensive to manufacture. This means they are appropriate for economical repairs of commercial vehicles with a shorter remaining service life. EconX products provide identical function at a fair price in original quality.
For better air
With remanufactured service products like EconX electronic clutch actuators, you can save money while doing something good for the environment. Remanufacturing is the most efficient way to recycle used products, saving resources and energy. In addition, this also reduces CO2 emissions in comparison to manufacturing a new service part. Studies have shown that the EconX variant of the electronic clutch actuator can save up to 79% of CO2 emissions. Sustainable. Efficient. For cleaner air.
At a glance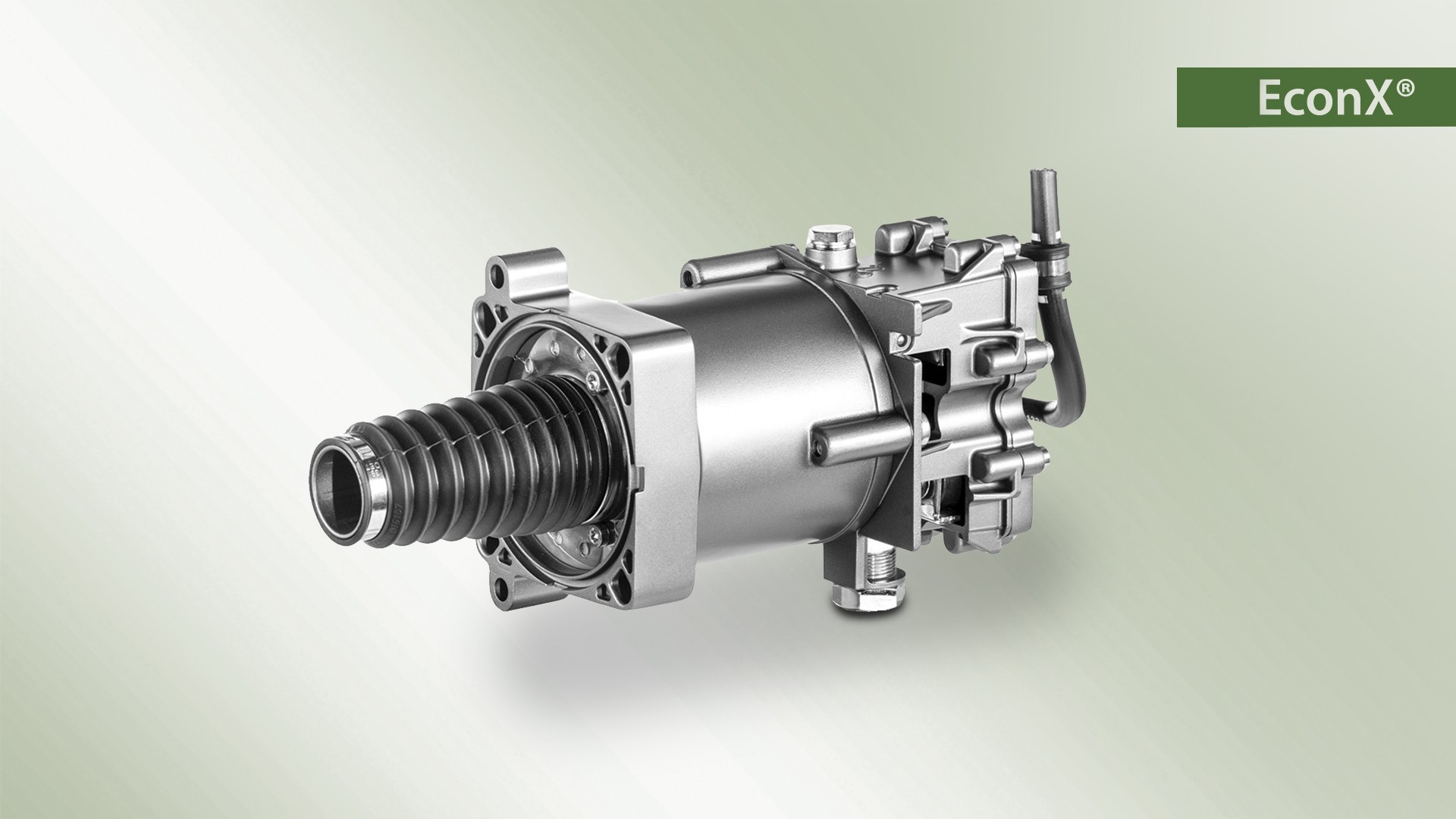 Adapted: for economical repairs of commercial vehicles with a shorter remaining service life
Affordable: lower cost with the same function as a new product
Efficient: optimized total cost of operation for commercial vehicles
Customized: remanufacturing process specifically tailored to Knorr-Bremse products based on OE standards (Genuine Remanufactured)
Sustainable: CO2 savings of up to 79% during production compared to a service new product
With one click you will be redirected to our Customer portal. There you will find extensive information about our EconX products.
Start search






Go to overview: EconX