Fan clutches help keep your engine cool. Always!
Always stay nice and cool with fan clutches from Knorr-Bremse. Effective engine cooling in proven quality. Compact. Lightweight. Reliable.
A feat of strength for your cooling system
Constant stop-and-go traffic, long traffic jams, extreme heat and challenging mountainous terrain – it's all in a day's work for commercial vehicles and their drivers. For a vehicle's cooling system, however, it's a feat of strength! When engines run consistently at high rotational speeds, this can quickly overload the cooling system. Fan clutches play a key role in cooling performance, and they need to work well all the time, without ifs, ands or buts! Only efficient engine cooling can deliver the maximum engine power, save fuel and ensure a long vehicle life. Knorr-Bremse TruckServices offers a wide portfolio of high-performing fan clutches for all commonly available commercial vehicle brands. Tested. Proven.
Lower fuel consumption, better engine power
Modern commercial vehicles use up to 30 percent of their power for engine cooling alone. The radiator is the main component for effective heat discharge from engines, but fans and fan drives are key components in supplying cooling air to the radiator. The air flow must be high enough to cool the flow in the coolant lines. When the engine is under a lower load, typically the wind produced through driving is sufficient to continuously dissipate engine heat. At high outside temperatures, when driving uphill, or in stop-and-go traffic, however, engines can overheat. In this case, the fan clutch must ensure that the fan allows enough air to flow through the radiator. Quickly and effectively!
Avoid overheating
If the fan clutch is not working properly or fails, the fan will no longer work correctly. As a consequence, the engine may overheat. Or the fan may be coupled over and over again, wasting energy. Replacing your fan clutch early on prevents such waste. Fan clutches from Knorr-Bremse are compact and lightweight. They are IP67 protection class certified, ensuring that neither dust nor water can penetrate the clutch. Knorr-Bremse fan clutches offer proven quality, and they are designed for high performance, efficiency and reliability. For a long vehicle life.
Reliable fan clutches thanks to hard testing
Knorr-Bremse is an expert in modern cooling and ventilation systems, in the business area of railway vehicle systems. We at TruckServices benefit from this expertise as well: Each component undergoes a strict testing and control program. This includes trials in the wind tunnel and climatic chamber, vibration testing, bench tests on bearings and coils under extreme loads and tests for corrosion resistance. Quality testing is carried out at every stage of the production process. In addition, each fan clutch undergoes operational end-of-line test. For our customers, controlled Knorr-Bremse quality means absolute reliability in everyday use.
Fan clutches for all commercial vehicles
The range of fan clutches offered by Knorr-Bremse TruckServices includes all three types of viscous clutches. Pneumatic clutches, which are usually installed in older vehicles. Bimetallic fan clutches, in which a bimetallic spring reacts to increasing engine heat and activates the clutch. In addition, our product range includes electromagnetic fan clutches. These facilitate precise heat delivery for efficient engine cooling. This new type of coupling is used in most Euro-6 commercial vehicles. All fan clutches are available as individual components, such as a fan propeller, as well as a complete assembly. For commercial vehicles from every major manufacturer. For your needs. For every type.
Advantages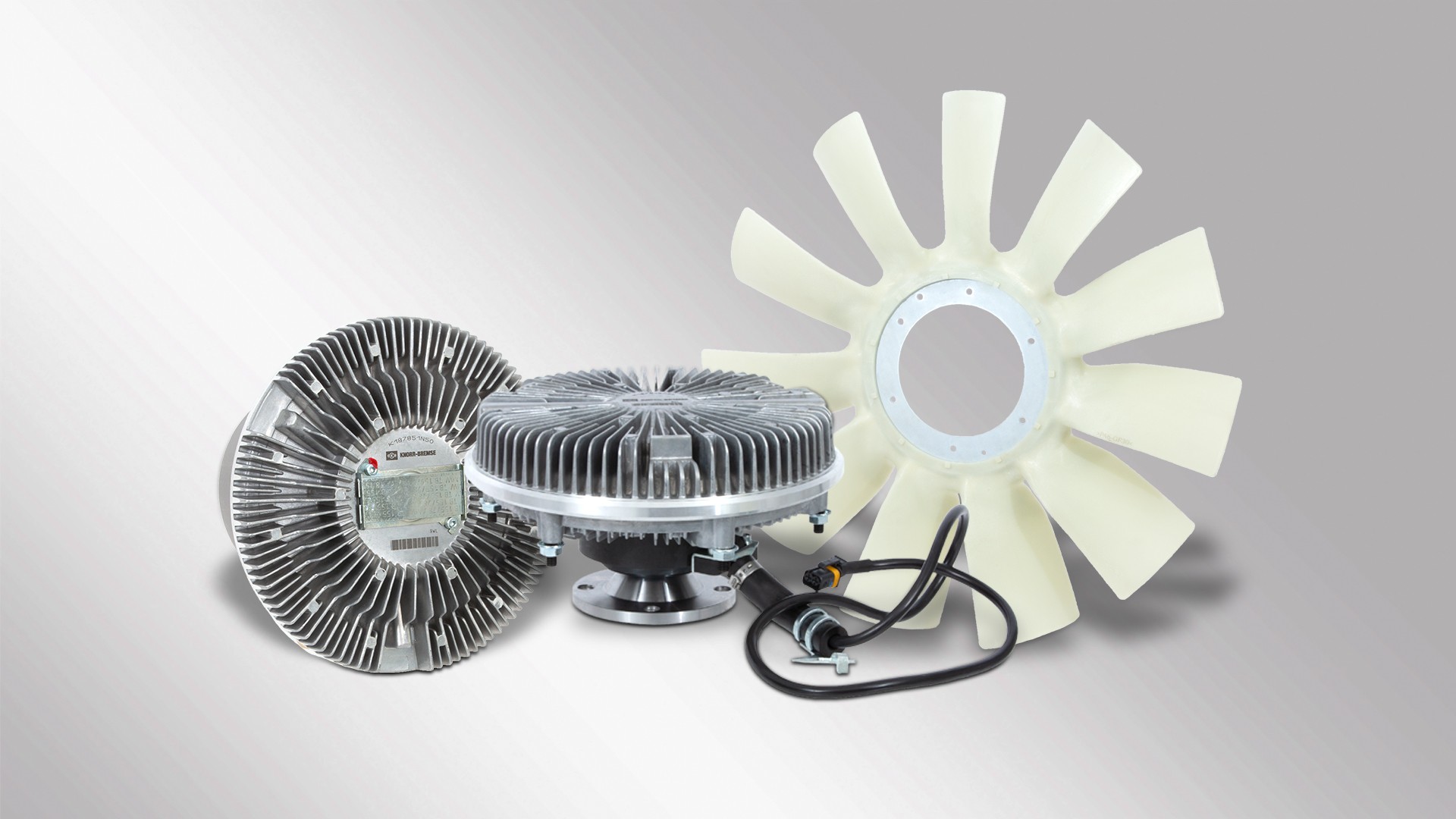 High-quality: regularly tested quality comparable to OE products
Versatile: Product range covers all leading commercial vehicle brands
Comprehensive: available as a complete assembly or individual components
Tested: operational end-of-line tests for each fan clutch
Protected: Protection class IP67 to protect against penetration by dust and water
Available: high availability thanks to our European-wide logistics network
With one click you will be redirected to our Customer portal. There you will find extensive information about our fan clutches.
Start search



You can download product information, installation and service manuals here.
Downloads






Go to overview: Service New Parts