Filters for commercial vehicles: Resistant.
Clean the commercial vehicle's engine, fuel and driver's cab of dirt, dust and minute particles. With filters from Knorr-Bremse, nothing gets through!
Pleats needed? No problem!
Pleats create effective filters. The arrangement of the pleats greatly influences how filters perform. The more even and precise spacing between the individual pleats of a filter, will result in better filtration performance and longer service life. Knorr-Bremse filters for commercial vehicles stand out for their consistent pleats and filter stability. We only use high-quality materials for outstanding filtration results for all Knorr-Bremse filters – from air to cabin, fuel and oil filters. When it comes to quality, we don't compromise!
Excellent materials for a long vehicle life
Dust, dirt and moisture can greatly impact filters in commercial vehicles. Knorr-Bremse filters are designed for the tough conditions that trucks and buses are exposed to on the road. To make sure your vehicles run safely and reliably, we focus on premium quality for our filters, including resistant materials, highly effective filter media and perfect precision fit for filter systems of many different commercial vehicle manufacturers. Here's how we fulfill our quality promise:
Modern filter materials, such as melt blown media: high degree of dirt separation, low flow resistance
Specialized impregnation: high degree of water separation, pressure stable and tear resistant filter material
Specialized paper embossing: high strength, long-lasting filters
Homogeneous pleat structure: retains its shape, optimal filtration performance
Suitable filter media: outstanding chemical resistance
Advantages
Experienced: Over 20 years of experience in air drying and oil filtration
Leading: more than 30 million Air Dryer Cartridges produced
High-quality: Premium quality in the mid-range price segment
Fast availability: High delivery performance thanks to a clearly structured warehousing strategy
Longevity: Resistant materials, effective filter media
Compatible: Absolute precision fit for the filter systems
Safe: Approval granted only in accordance with Knorr-Bremse approval guidelines, which meet the highest standards of the automotive industry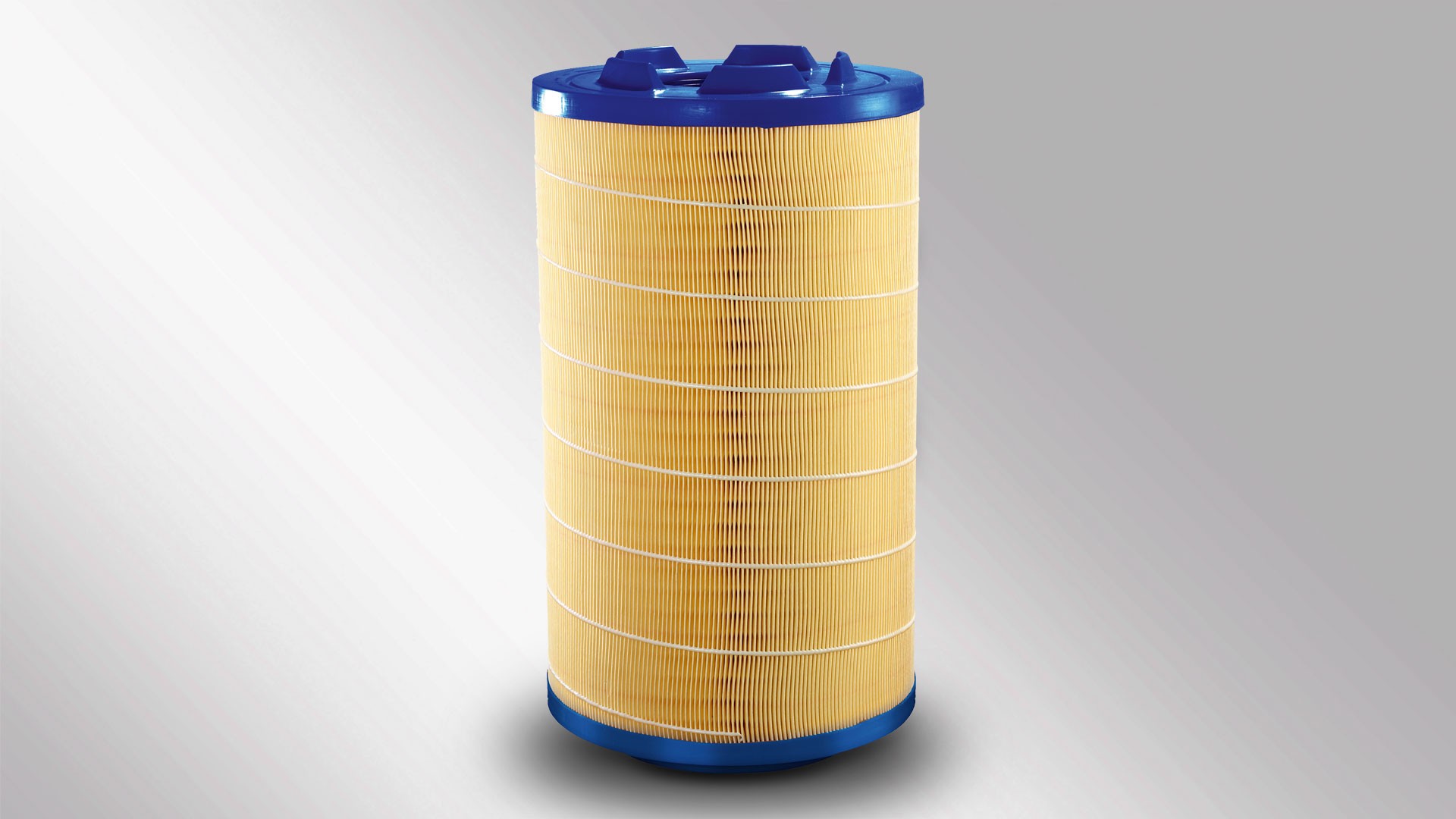 Truly robust air filters!
Trucks and buses have to offer peak performance – and they need powerful engines to do it. A powerful engine needs a strong filtration system to supply the engine optimally with clean, filtered intake air. Knorr-Bremse air filters for commercial vehicles stand out for their high sturdiness, robust pleat geometry and high-quality filter media. This allows them to efficiently clean intake air of even the smallest particles. Pleat by pleat!
Reduce pollutant emissions with air filters
Vehicle air filters protect the engine from contamination. Even very fine particles in the intake air can act like sandpaper and accelerate engine wear. Clean intake air is essential for efficient fuel combustion. Filtered air helps the engine run smoothly – while optimizing fuel consumption and producing lower pollutant emissions.
Cabin filter: Refreshing!
We're not allowed in... Pollen, dust and moisture don't belong in the interiors of commercial vehicles. Truck and bus drivers need fresh air, free from exhaust, pollen and other contaminants. Even a sneeze can be a potential hazard and stuffy air can negatively impact driver concentration. Knorr-Bremse filters cleans air drawn in from the outside, of even the smallest particles in fresh air fans, heating and air conditioning systems. The combination filter with added activated carbon filtration keeps pollutants and unpleasant odors out as well, to ensure a good climate in the driver's cab at all times.
Cleaning air for a clear view
Another major advantage of cabin filters in commercial vehicles is that constant filtration of the exterior air prevents condensation from forming and prevents the front windshield from being obscured by dirt and dust particles. Fresh air for a clear view!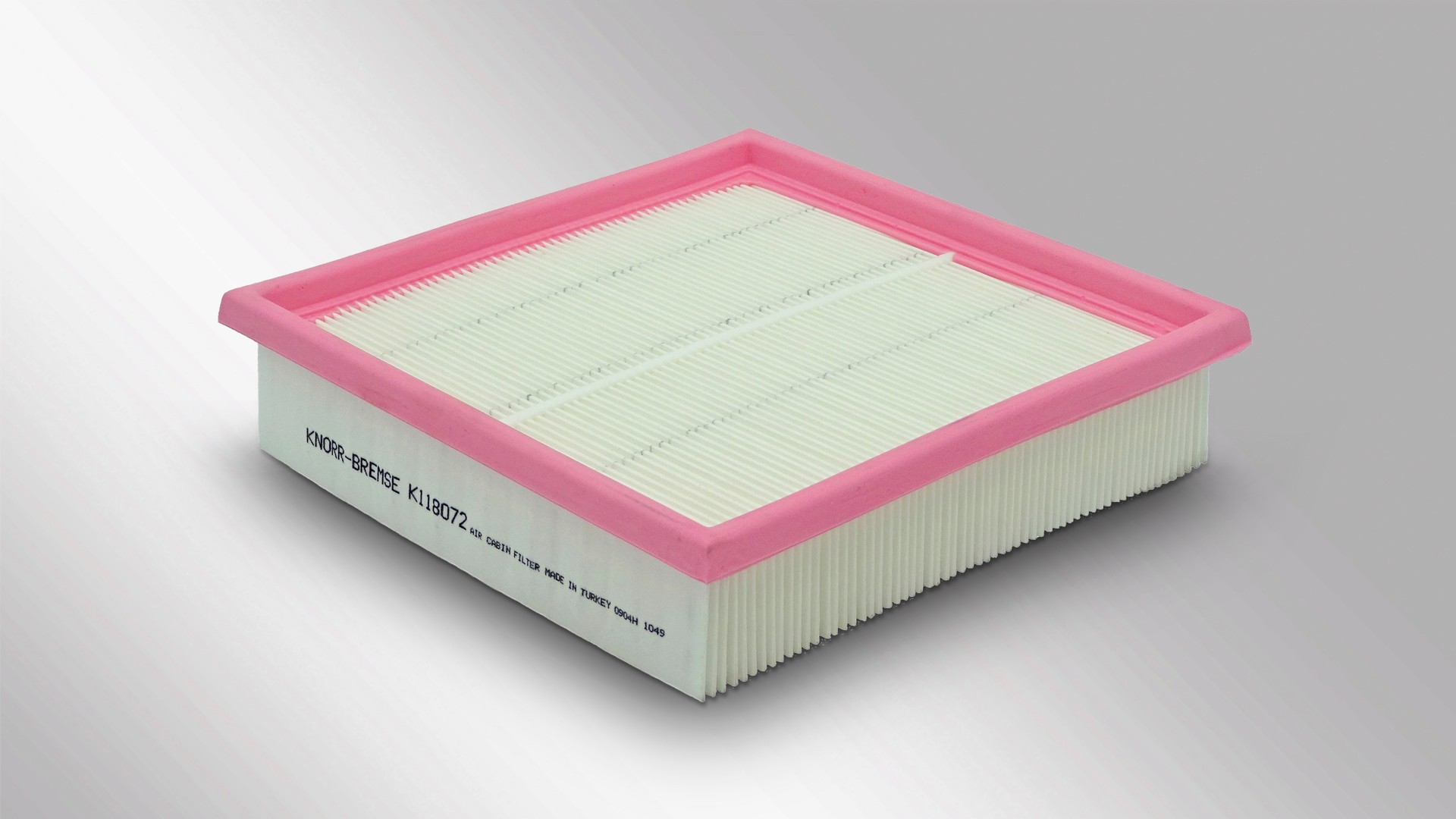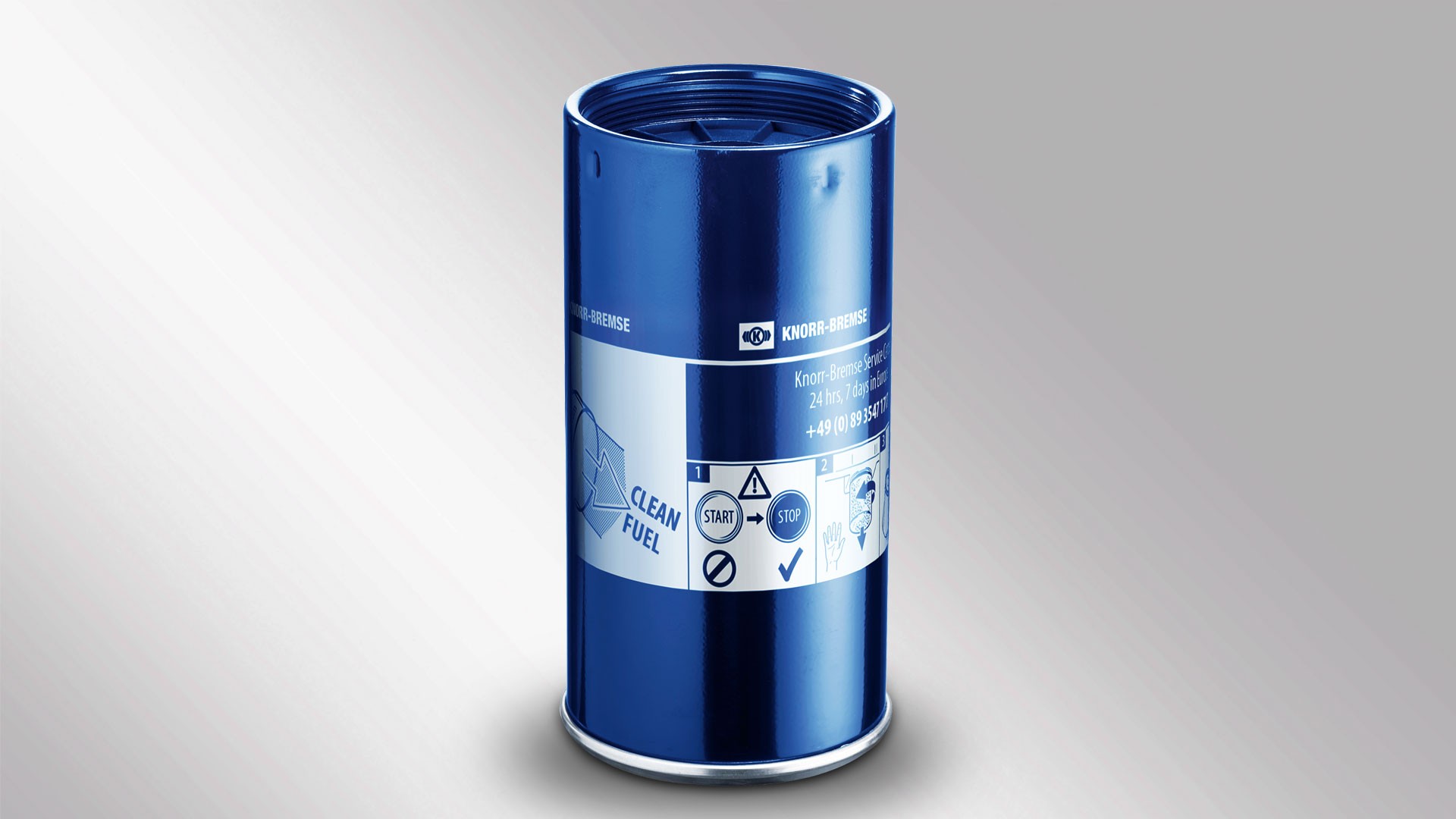 Fuel filters for a clean-running engine
First-class fuel is essential for effective, high-performing engines. Commercial vehicles need full drive power available at all times. Consistent engine power is only guaranteed if the injection system supplies the vehicle with clean diesel, evenly and reliably. But not all fuels are the same – fuel is subject to natural variations in quality and cleanliness. Knorr-Bremse fuel filters prevent even minute particles from entering the injection system. If it doesn't belong in the system in the first place, our filters will get it out!
Fuel filters for clean commercial vehicles
All of the components of commercial vehicle fuel systems suffer when exposed to dirt and moisture. Knorr-Bremse fuel filters keep dirt and moisture out. A specialized water separation function protects against corrosion, avoiding costly repairs. We only use high quality materials for our fuel filters. This makes them highly temperature and pressure-resistant and resistant to aggressive fuel components.
Oil filters for good lubrication
Only clean engine oil and lubricants can ensure consistent engine power. Contaminants and combustion residues reduce the lubricating capabilities of oil. This causes engine wear, and even engine damage in the worst case scenario. Oil filters in commercial vehicles play a key role: Knorr-Bremse oil filters clean lubricants effectively from dirt, soot and other deposits, to keep the engines in your commercial vehicles running smoothly.
Modern filter technology for optimal oil supply
Knorr-Bremse oil filters are equipped with a bypass valve. This ensures optimal oil supply to the entire engine system at all times, regardless of the conditions, and even when cold starting. The integrated return flow membrane keeps oil in the filter during maintenance. Another advantage is that Knorr-Bremse oil filters are highly temperature and pressure resistant thanks to the high quality materials used, making them very long-lasting. For a long vehicle service life!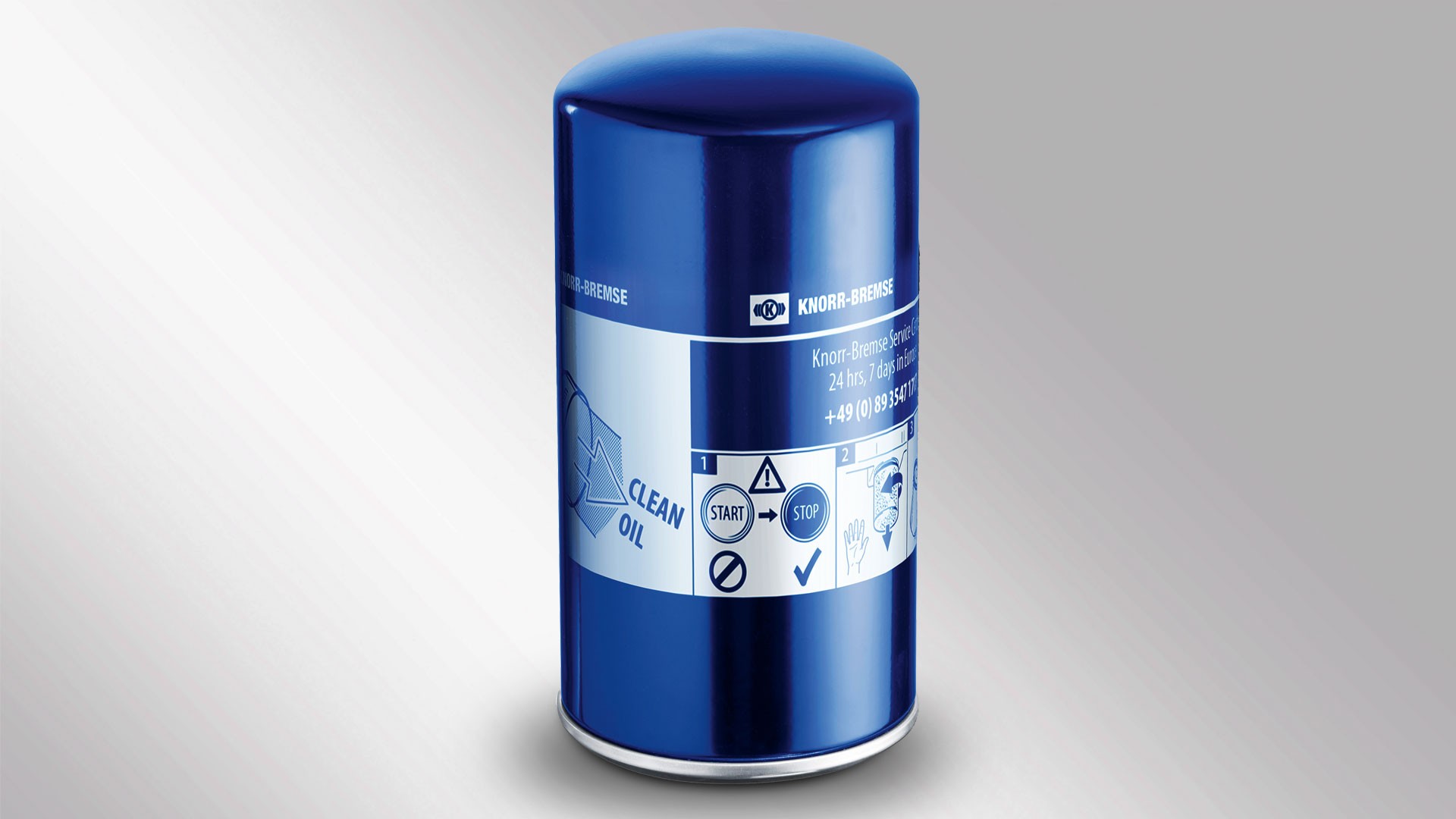 With one click you will be redirected to our Customer portal. There you will find extensive information about our filters.
Start search



You can download product information, installation and service manuals here.
Downloads






Go to overview: Service New Parts