Bayonet-ring tool for the EAC2.5.
Easily access the bayonet cartridge using the TruckServices special bayonet ring cartridge tool. For safe maintenance and repair.
A little tool with a big impact!
Bigger doesn't always equal better. Sometimes, even the smallest tools can do amazing things. Special tools, for instance, simplify everyday work in the workshop in their own, unassuming ways. Small, but mighty! TruckServices offers one such helpful tool for tightening and loosening the bayonet-ring on the bayonet cartridge. Maintenance, repair and replacement of Knorr-Bremse bayonet cartridges are easier, faster, and safer. Lowers downtimes. Reduces costs.
Loosen, turn, tighten – with a special tool
Anyone doing the same work every day in the workshop knows how valuable special maintenance tools can be. This special bayonet ring cartridge tool from TruckServices not only helps you loosen and tighten bayonet-rings, it also makes your work in the workshop easier. It also helps you complete both maintenance and repair of electronic air treatment systems and replace bayonet cartridges cleanly and precisely. The easier the tool is to handle, the lower the risk of injury while maintaining the EAC2.5. For safety at work.
Easily remove bayonet cartridges
The TruckServices special tool for bayonet cartridges offers another advantage as well: It plays a key role in maintaining the bayonet-ring, bayonet cartridge and entire electronic air preparation system of the EAC2.5 in its original condition, without defects or damage to the cartridge and surrounding components, for instance while removing the bayonet cartridge. For vehicle safety.
Excellent quality, outstanding service
Our mission is to use our service concept to guarantee the highest possible quality and the best service for EAC2.5 systems. Customized repair kits and special tools are essential for fast, safe and cost-effective maintenance. That's why we work with professionals: The bayonet-ring tool was developed alongside Gedore Automotive, a leading special tool manufacturer. Our cooperative partner is a tool specialist represented in over 70 countries. From tool experts. For workshop professionals.
Advantages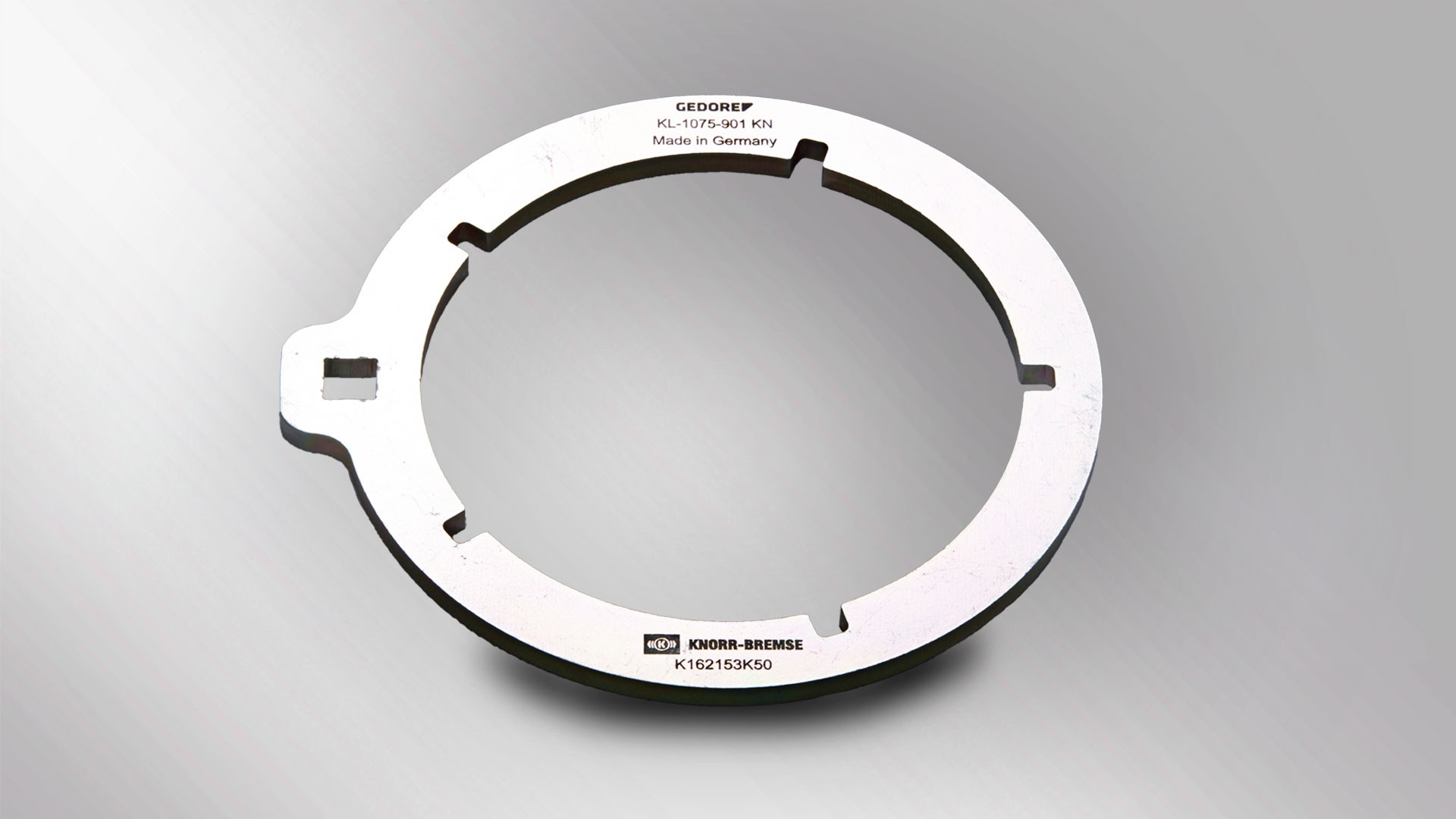 Facilitates fast, easy loosening and tightening of the bayonet-ring on the bayonet cartridge
Simplifies everyday work in the workshop
Significantly reduces maintenance times
Prevents defects and damage to the cartridge and surrounding components while maintaining the EAC2.5
Reduces the danger of injury during maintenance work
Allows for intuitive, self-explanatory handling
You can download product information, installation and service manuals here.
Downloads






Go to overview: Workshop Tools