Air treatment. Dry. Filtered. Protected.
Don't let moisture into your compressed air system: Air dryers, APUs and Multi Circuit Protection Valves from Knorr-Bremse. Dry and safe!
Not even a single drop of moisture...
should ever enter a commercial vehicle compressed air system. Moisture can cause corrosion and premature wear, resulting in high repair costs. And that's not all: Moisture in the braking system can reduce braking performance and create hazards. However, the air drawn into the compressor is always slightly moist. The purpose of an air dryer is to remove humidity from the compressed air. With over six million products sold, Knorr-Bremse is a leading provider in conventional air processing technology. Our product range includes unloader valves, air dryers and multi protection circuit protection valves, as well as the air processing unit, or APU.
Unloader Valves – maintain the pressure level
The pressure level is not the same everywhere. Unloader valves regulate the operating pressure of each device in the system. By doing so, it ensures the different pressure levels of all of the various circuits, in order to reliably fulfill the highest safety requirements for commercial vehicles at all times.
Air dryers remove moisture
The air coming from the compressor cools down on its way to the device, losing moisture through condensation during the process. This produces condensate, which is dangerous to valves, air reservoirs and actuators – and ultimately to drivers as well. Corrosion and freezing water can cause wear and can impact component function and braking performance. If moisture collects in the compressed air reservoir as water, for instance, it will reduce its volume, meaning less air pressure can be stored. Lower air pressure means the vehicle cannot brake as quickly multiple times in a row. The air needs to be dry for the vehicle to deliver its full braking capacity and to maintain traffic safety. To ensure this, it is fed through the air dryer, where a specialized granulate extracts the moisture.
Oil separators for added protection
Compressed air not only needs to be completely dry; it also needs to be clean, filtered and cleared of even the smallest particles. Even tiny particles shouldn't be in the circuits of the vehicle. Combining an air dryer with an oil separator removes contaminants from the air even before they enter the dryer. Because of this, many Knorr-Bremse air dryers come equipped standard with an Oil Separator Cartridge (OSC). The OSC protects the brake system and reduces repair costs.
Four circuit protection valve – setting priorities
The four circuit protection valve – or multi circuit protection valve – prioritizes compressed air distribution and secures the circuits. It distributes air to the service brakes for the front and rear axle and trailers, to the park brake and auxiliary devices. To do so, the relevant reservoirs are filled with compressed air until they reach their operating pressure.
APU – one unit, two functions
APU – three letters, two functions, and one unit: The Air Processing Unit (APU) combines the function of an air dryer with that of a four circuit protection valve in a single part. APUs from Knorr-Bremse are available as a flange solution, or in an extremely compact monoblock version for reduced installation space.
Advantages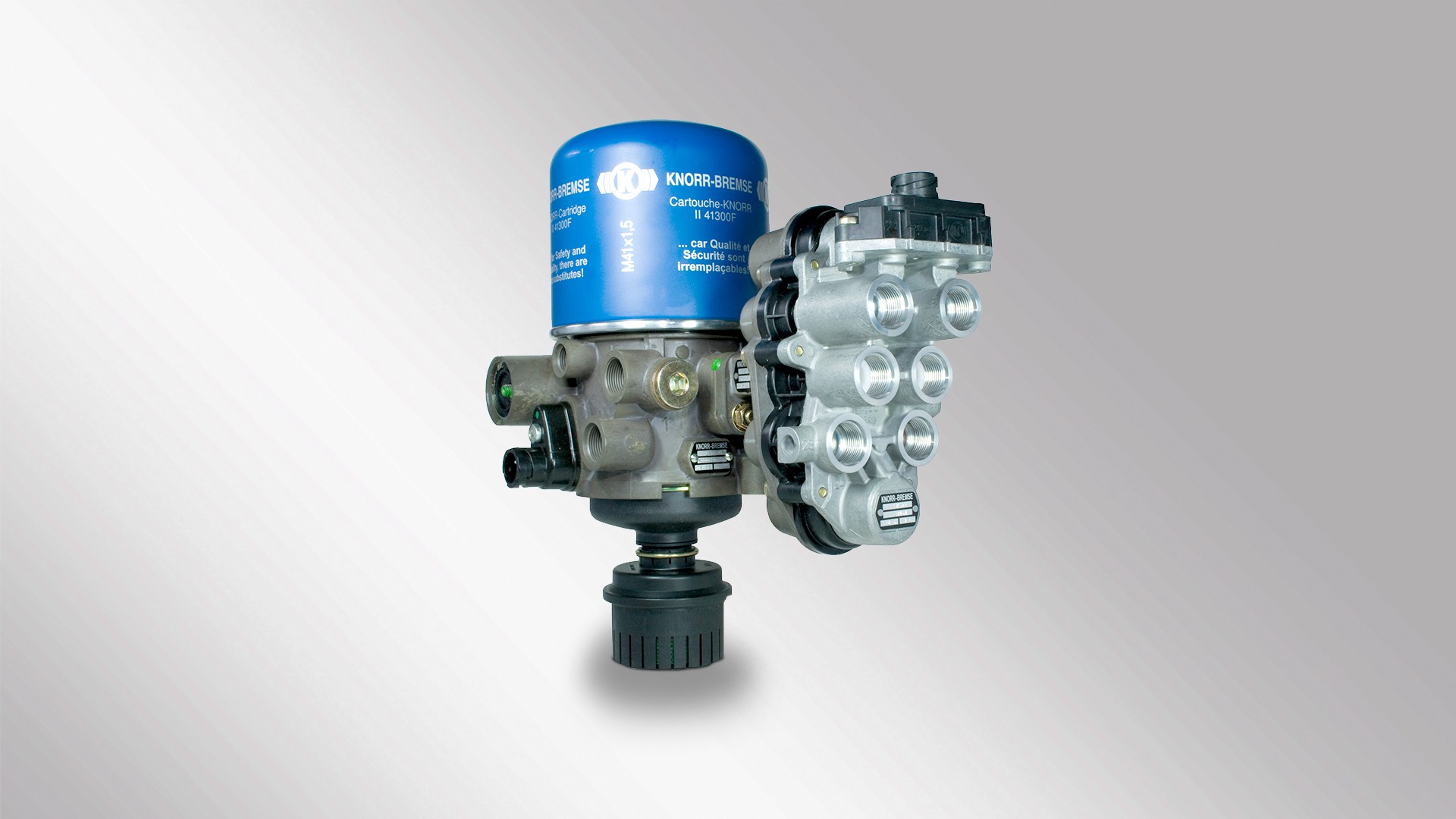 Over 20 years of experience in air drying
Reduced service costs through a modular service strategy
Streamlined aftermarket portfolio for the same product coverage with fewer part numbers, resulting in lower storage costs
Secures the pneumatic system thanks to OE quality
Simple installation thanks to the optimized design
Oil Separator Cartridges improve the quality of the compressed air
With one click you will be redirected to our Customer portal. There you will find extensive information about our products.
Start search






Back to overview: Air Treatment