EconX® Air Control EAC1. Savings to the third power.
Save in three different ways with remanufactured EconX® Electronic Air Control in OE quality from Knorr-Bremse: less fuel, lower costs, and less CO2 emissions.
Save fuel
Commercial vehicles drive more economically with Electronic Air Control (EAC). Fuel savings of up to 1,250 liters per year are possible in combination with a Knorr-Bremse clutch compressor. Intelligent compressor control also delivers measurable fuel savings, while also providing more safety and comfort. With EconX remanufactured versions, even older vehicles can benefit from smart compressed air management by the EAC. An added value for vehicles that are "in their prime".
Lower product costs with processing
Commercial vehicles are made to deliver a long service life on the road. However, hundreds of thousands of kilometers will leave their mark. Is installing a new Electronic Air Control system a good idea in a truck with a short remaining service life? Maybe not: but EconX EAC variants can keep even older commercial vehicles on the road longer, safely. It is also an economical choice, since the main components come from used products that have been remanufactured. We conform to the standards of our OE products during the remanufacturing process. When it comes to function, EconX air control units are indistinguishable from original Knorr-Bremse EACs. We don't compromise. Guaranteed!
Save resources
Why do we offer remanufactured products? Because remanufacturing is the highest form of recycling, the optimal balance between reuse and materials recycling. In comparison to manufacturing a new product, remanufacturing used products saves raw materials and energy. This is both sustainable and efficient, while also protecting the environment. According to studies, CO2 emissions are up to 79 percent lower than the emissions associated with manufacturing new products. Save resources and money with EconX Electronic Air Control!
Advantages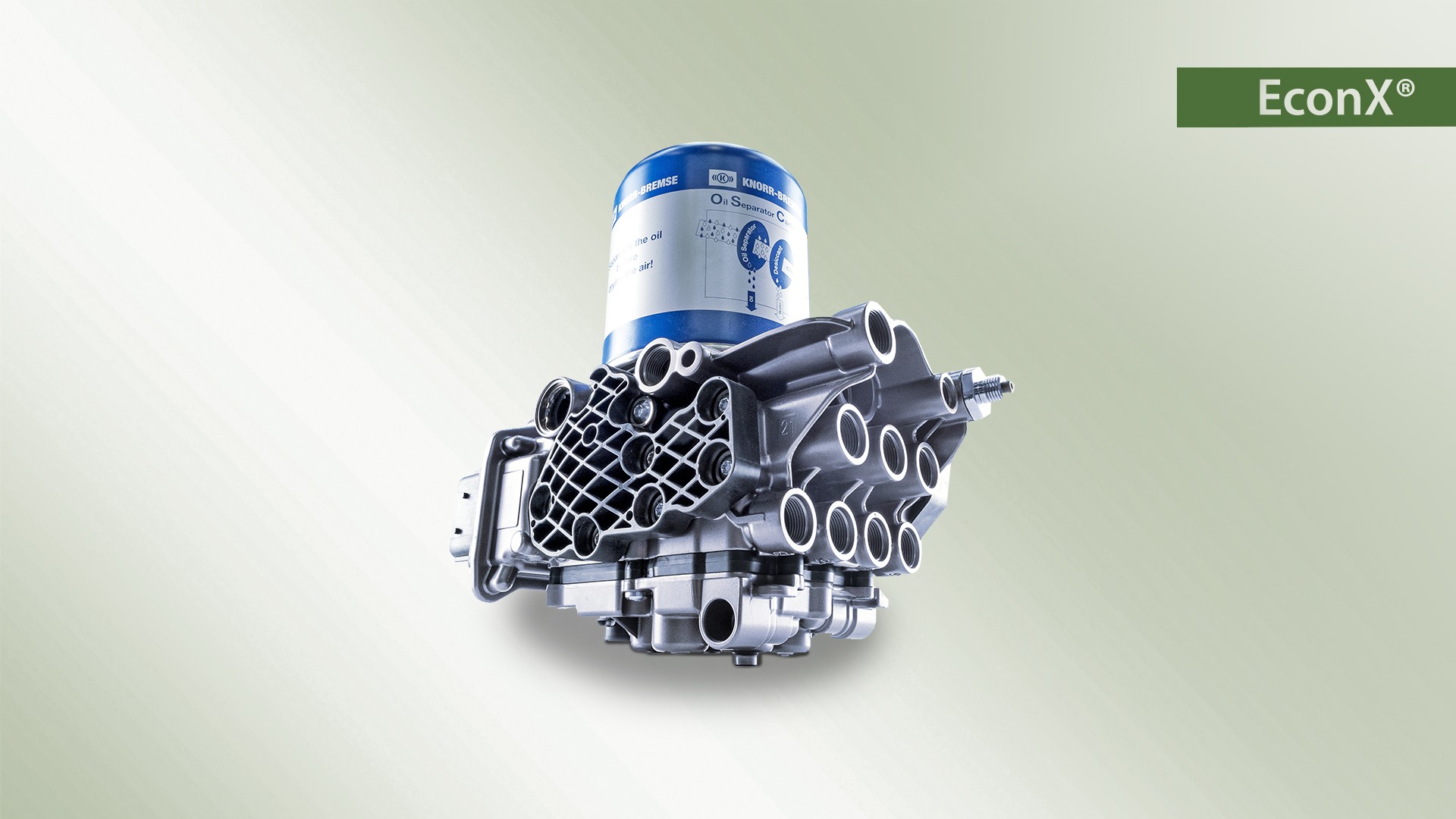 Knorr-Bremse guarantees that remanufactured EACs will deliver the same quality and function that only an original parts manufacturer can provide.
EconX Electronic Air Control units help save resources and protect the environment.
"Genuine remanufactured" Electronic Air Control units from Knorr-Bremse conform to leading standards for commercial vehicle braking systems.
We only reuse components that conform to the design specifications of the original parts.
Remanufactured EACs go through the same assembly process as original Electronic Air Control units from Knorr-Bremse.
Knorr-Bremse guarantees that EconX Electronic Air Control units will meet the same standards as original products in end-of-line testing.
With one click you will be redirected to our Customer portal. There you will find extensive information about our EconX products.
Start search



You can download product information, installation and service manuals here.
Downloads






Go to overview: EconX Air Treatment