Brake tool. For professional repairs.
Every Knorr-Bremse TruckServices Air Disc Brake Tool Kit provides everything you need for professional repairs. For every brake type!
I'm packing my suitcase...
... and I'm bringing: Special tools for the maintenance and repair of Air Disc Brakes. The right tool set for every type. After all, the tool has to match the brake! The comprehensive portfolio of Knorr-Bremse Air Disc Brakes requires customized service solutions. That is why we assembled the special tools needed to complete common, routine work in the workshop in one rugged case. Maintenance and brake repairs have never been simpler or more efficient, ensuring your commercial vehicles are ready to leave the workshop fast with perfectly repaired Air Disc Brakes. Back on the road!
Special tools – Looking to the workshops
Safety is paramount at Knorr-Bremse! Commercial vehicles of every type and any age need to be able to brake reliably and safely at all times. Which tool should be used to professionally repair Air Disc Brakes? What can make repairs simpler, faster, and more efficient, without foregoing excellent quality and safety? We deliver what demanding workshops expect. Inspired by the market, we have developed maintenance tools to meet their needs in cooperation with leading tool specialists. These tools offer excellent quality, a rugged design, and meet the highest demands.
Tool sets for other brake manufacturers – Looking ahead
Knorr-Bremse TruckServices regularly expands its product range with additional tool sets. Our portfolio now also includes Service Tools for Air Disc Brakes from selected market competitors. Why do we offer additional repair sets for disc brakes outside of the Knorr-Bremse OEM range? Because we want to offer our customers a complete selection of products in trusted Knorr-Bremse quality. This is our mission.
Advantages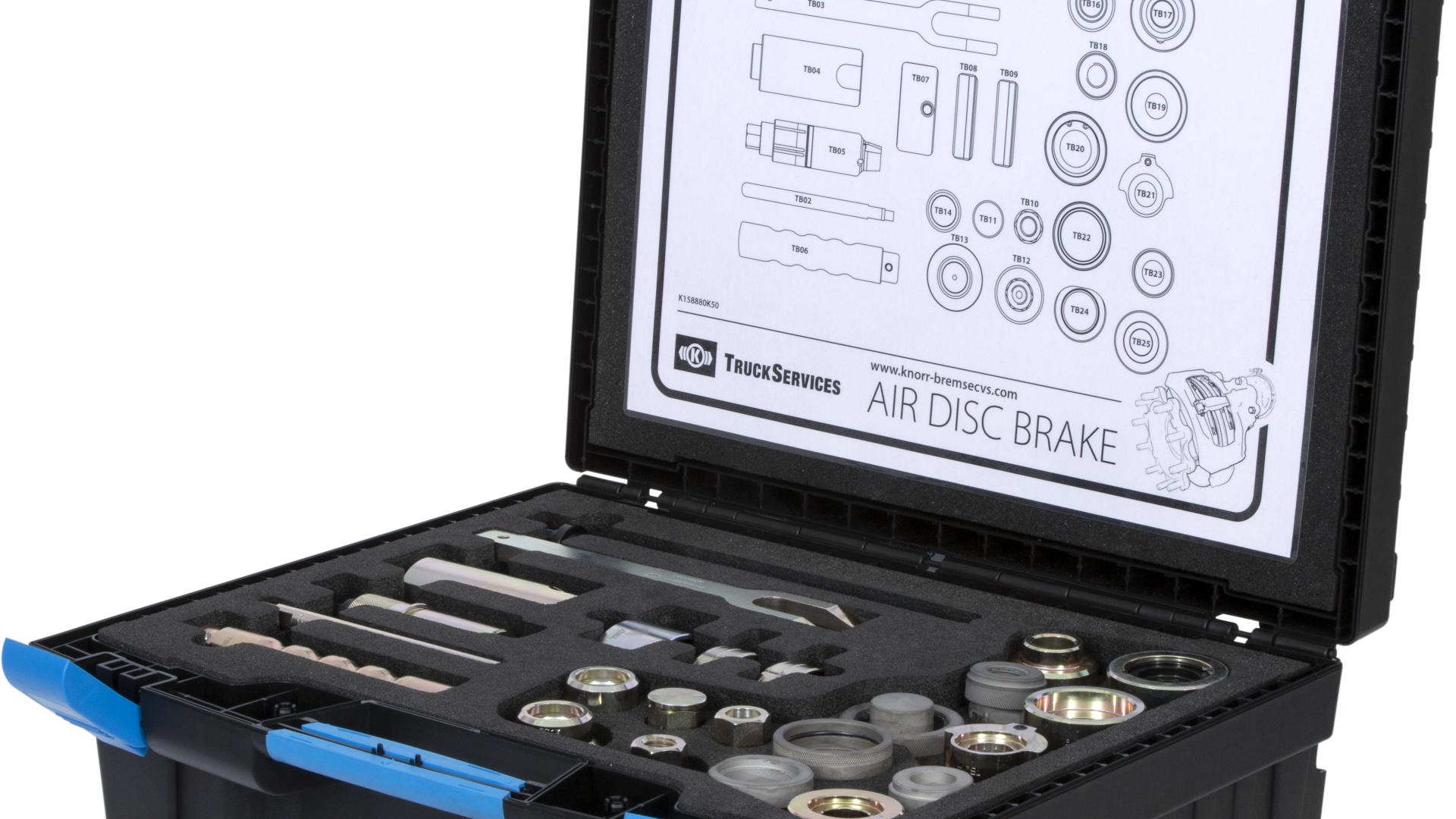 Compact: Special tools & auxiliary tools, optimally tailored to the repair and maintenance of Air Disc Brakes, combined in a compact Tool Kit
Rugged: everything easy to access, packaged securely, ideal for rough conditions in the workshop, and optimally designed for on-the-go use
Organized: perfectly assembled, easy to see, easy to handle, and easy to transport
Understandable: detailed repair instructions available online
Tool Kits: a closer look
Customized Tool Kits ensure every workshop is perfectly equipped for professional maintenance, servicing and repair of Air Disc Brakes, as well as for brakes from other manufacturers with our supplementary tool sets. Take a look into Tool Kits from Knorr-Bremse TruckServices:
Tool kits for professional repair of Knorr-Bremse Air Disc Brakes
Special tools for every Knorr-Bremse brake type:
SB5, SN5
SB6, SN6, ST6
SB7, SN7, SK7, SM7, SL7, ST7
Supplementary repair sets with Service Tools for Air Disc Brakes from other manufacturers outside of the Knorr-Bremse OEM product range
You can download product information, installation and service manuals here.
Downloads






Go to overview: Workshop Tools