EconX® Compressors. A new heart for your compressed air system.
Remanufactured and economical: With EconX® compressors from Knorr-Bremse, older commercial vehicles can stay on the road longer, efficiently and safely.
A heart replacement
Commercial vehicles without compressed air? Unthinkable! Compressed air systems in commercial vehicles are considered standard today. Compressed air serves as the basic energy flowing through all pneumatic braking systems and air spring systems on trucks, buses and trailers. The compressor is the heart of air delivery to the compressed air system. It is generally driven by the vehicle's engine, and generates the compressed air required by all pneumatic systems. Does it still make sense to replace the compressor? Giving an older truck with a short remaining service life a "new heart," as it were? Yes! With remanufactured EconX compressors from Knorr-Bremse. They are like a heart transplant for the vehicle's remaining service life.
Adapted to vehicle service life
Remanufactured EconX compressors from Knorr-Bremse offer the same functionality as new products. We ensure this through our specialized remanufacturing process. The difference in these products is their shorter expected service life: The service life of an EconX compressor is adapted to the remaining service life of the vehicle as a whole. Some parts are obtained from used products, which makes them less expensive. However, older vehicles with EconX compressors are just as safe on the road as new service products. We never compromise!
Remanufacturing is sustainable
Clean air thanks to remanufacturing: We don't mean just the intake air into the air compressor, which it then compresses and delivers to the pneumatic system. We mean the air all around us, the air we breathe. EconX compressors are remanufactured from used products in a process that saves resources, all part of our focus on remanufacturing instead of discarding older products. This reduces CO2 emissions by up to 79 percent compared to producing new service products, which helps improve environmental protection.
EconX compressors are efficient
Knorr-Bremse EconX air compressors supply pneumatic systems reliably and safely with the operating pressure they need – just like new service compressors. This makes them ideal for economical repairs for older commercial vehicles. Vehicle operators and vehicle fleet owners benefit from lower costs and using cost-efficient EconX products in older vehicles delivers a true competitive advantage. Safe, more economical driving.
Advantages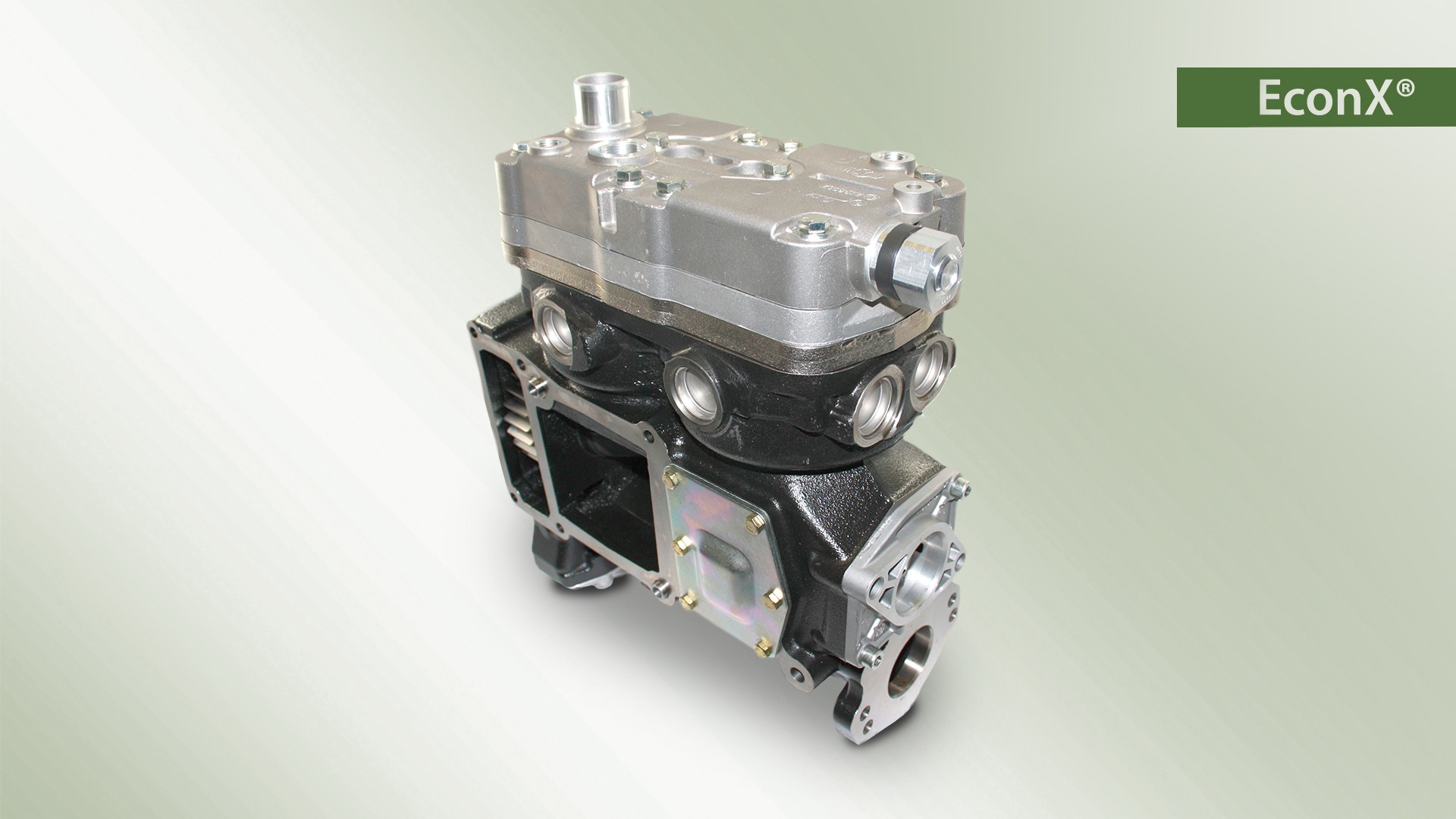 Diverse: broad portfolio of remanufactured compressors
High-quality: remanufactured by the original manufacturer
Sustainable: Reusing used products means lower CO2 emissions during construction, compared to service new products
Age-appropriate: ideal solution for economical repairs
With one click you will be redirected to our Customer portal. There you will find extensive information about our EconX products.
Start search



You can download product information, installation and service manuals here.
Downloads






Go to overview: EconX