Air suspension valves provide level control to put a spring in your step.
Empty, or fully loaded? Air suspension valves from Knorr-Bremse ensure that vehicles with conventionally controlled air suspension systems always stay at the right level.
Gentle lifting and lowering
Vehicles and trailers with air suspension can be lowered and lifted easily and gently with air suspension valves. Air suspension valves, also known as levelling control valves, regulate the pressure in the air bellows depending on the vehicle load. Adjusting the bellows pressure ensures the distance between the vehicle body and the road remains consistent at all times. Knorr-Bremse offers a broad range of valves in every variant. Valves with specialized functions also available.
Advantages of air suspension valves
Safe driving thanks to constant suspension
No damage when transporting sensitive goods
Eliminate the "jumping" of an empty or partially loaded trailer
Easy adjustment to loading ramps and consistent loading height
Continuous headlight adjustment
Bus passengers experience consistent vibration
Levelling control valves for cabin, chassis and trailers
Levelling control valves from Knorr-Bremse are available with a large number of special functions. Versions with height limitation prevent the vehicle from being lifted above the maximum permitted structural height. The air suspension valves are aerated when the vehicle is loaded (compression) and vented during decompression to maintain a constant chassis height. Levelling control valves with zero-point adjustment allow for a second driving height. They are used in particular in connection with lift axles to provide better ground clearance for special conditions.
Raise/lower valves for trailers
Raise/lower valves are installed in trailers with air suspension. Manually activating the air bellows allows the vehicle body to be lifted and lowered. Knorr-Bremse offers raise/lower valves in different versions: with 1, 2 or 4 control circuits, with a "deadman lever" and with drive position activation via "speed pulse."
Lift axle control valves
Knorr-Bremse's portfolio also includes control valves with a lift axle control function. The purpose of the lift axle is to automatically actuate the lift axle depending on the axle load. To do so, the lift axle is lifted and then lowered again once the axles on the ground have reached their maximum load. Conventional, spring returned lift axle valves from Knorr-Bremse are available in single and double circuit variants. They are delivered pre-assembled, and in some cases an attachment plate is included in the scope of delivery.
At a glance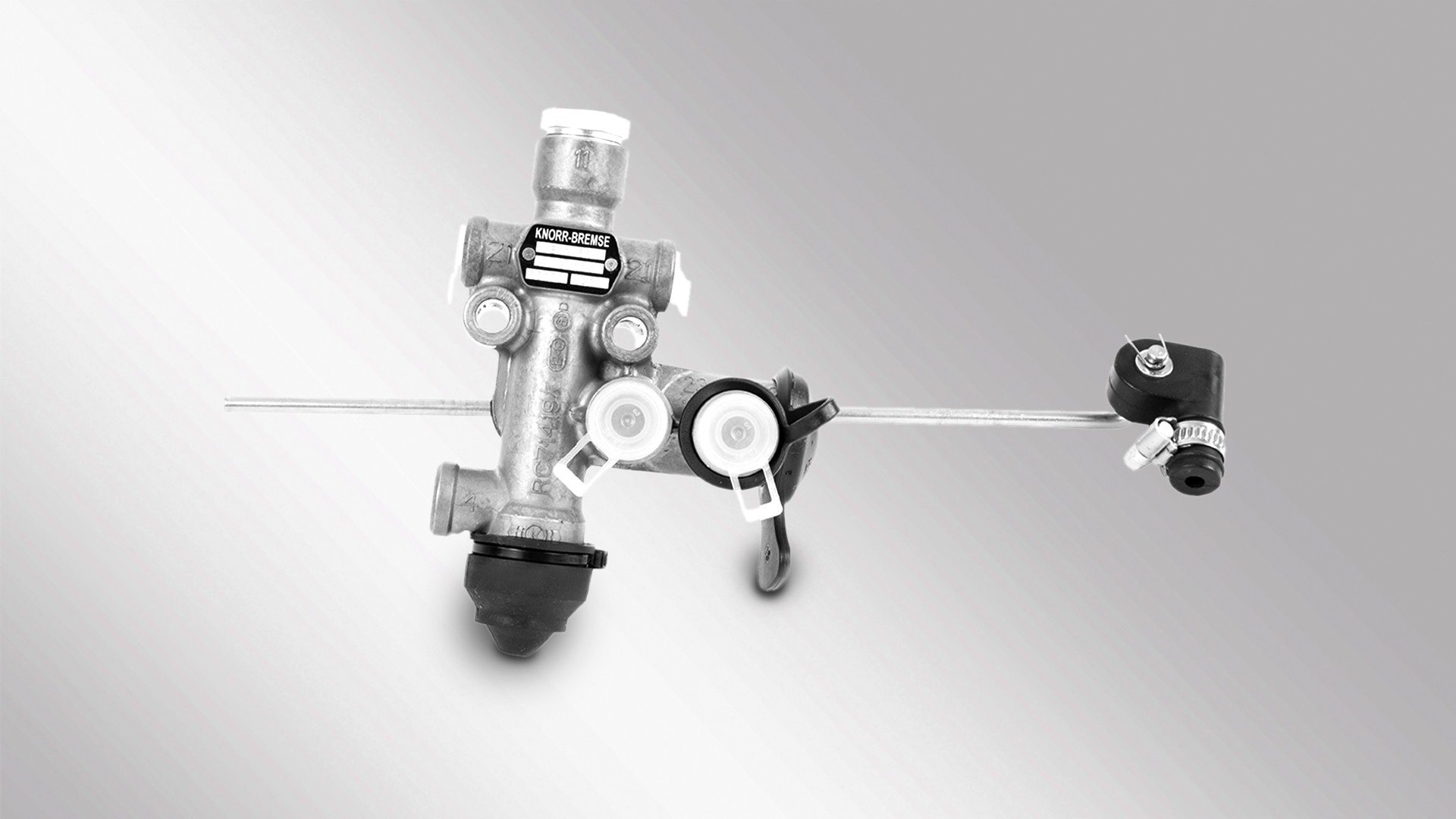 Complete portfolio with a wide range of accessories
Cover both new and old applications
Custom fit and optimal function thanks to OE quality
Safe function according to the original vehicle specifications
Service support from the Knorr-Bremse TruckServices technical hotline and online documentation
With one click you will be redirected to our Customer portal. There you will find extensive information about our air suspension valves.
Start search



You can download product information, installation and service manuals here.
Downloads






Go to overview: Conventional Brake Control